These are some examples of June's exceptionally vivid works in both oil and watercolour. She has been commissioned on several occasions to paint portraits either by boat owners or as gifts for them. These become treasured lifelong possessions since a boat represents so much more than just a mere vessel. Her refined technique allows her to flawlessly superimpose the subject boat in any desired setting and she maintains a vast catalogue of scenic photographs taken throughout the BC coast.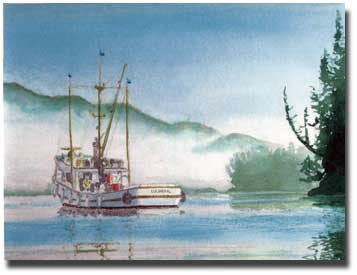 June is also, just now beginning to issue limited edition prints of some of her works. These are available directly through the artists secure online retailer and come with a no risk 15 day approval period.
If you would like more information on boat portraits or prints you can consult with the artist at absolutely no obligation. Simply contact her through this e-mail link or the contact button to the left
.
As an avid boating enthusiast she is always more than happy to discuss her passion for sailing and cruising the beautiful British Columbia coastline.
---
Homepage | Articles | Books | Paintings | Prints | Boating | Contact