June Cameron is a racer's racer having competed all the major sailboat races available on the BC coast. Over a period of ten years beginning in 1978 with her all-female crew she did the Juan de Fuca races, the Southern Straits and everything sponsored by the Vancouver Area Racing Council. A wall full of awards attests to her prowess.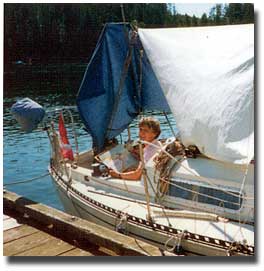 She is also a cruiser's cruiser having explored every part of the British Columbia coast. At the age of 59 she circumnavigated Vancouver Island in her 25 foot C and C sailboat with one female crew member and finished the Juan de Fuca section of that trip alone. She has explored little known anchorages around the Queen Charlotte Islands and along the 500 miles of this coast both solo and with a crew often sending home reports that were published by Pacific Yachting magazine.
During all this time she has also painted many boat portraits. Aside from sailboats, her favorite subjects have been old-time fishing boats, especially seiners and wooden tugboats. Her articles in Pacific Yachting were often illustrated with this fine artwork and her paintings hang in offices and homes internationally. This new career as an artist began to take shape while raising her three children alone. During this time she taught school, completed her Master of Education degree and took up sailing.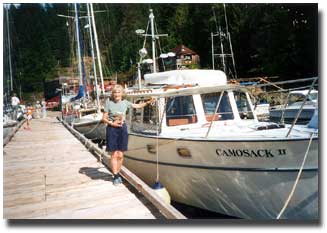 For her sixty-fifth birthday, she sold the sailboat and bought a 27 foot displacement cruiser, a Maple Bay with a sturdy diesel engine, an oil stove and windows all around. She spent the next six years living on board with her small Welsh terrier for company. During this time she produced two books published by Heritage House. Destination Cortes Island was a reminiscence of pioneer life and has become an essential handbook for those who want to cruise in Desolation Sound. The second book, Shelter from the Storm, tells how a middle-aged woman mastered sailing and thereby took control of her own destiny. The concluding paragraphs of this book reveal to us the life philosophy of this accomplished human being.
Homepage | Articles | Books | Paintings | Prints | Boating | Contact