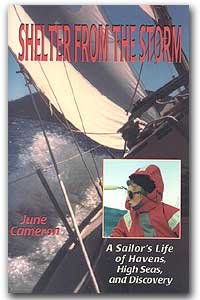 Shelter From The Storm describes how June found her way back by buying a sailboat and teaching herself first to sail it, and then to race it with her female crew, and finally to handle it by herself. This book is also about the courage to dream about what was up the next channel or around the next point, and to follow her dreams whether they led around that next headland or back to her own past. It's a great story, and as always, June tells it well.
- Duart Snow, Pacific Yachting
Whether you are a seasoned sailor, a self-avowed landlubber, or somewhere In between, June Cameron's latest book Shelter From The Storm is bound to keep you turning pages. This autobiographical account of June's decades as a sailor-both as a racer and cruiser/explorer-is a delightful mix of salty lore, coastal history, and personal reflection. On several occasions, alone or with company, June tackled challenges thrown at her by the weather, currents, and gear failures. Each time June describes such an incident, she recounts what she learned from the experience.
The last two paragraphs in Shelter From The Storm may well be, as one Critic phrased it, "worth the price of the book". In these paragraphs June outlines her philosophy of life as "a series of capes to be rounded, each one leading you to shelter from the storm". With each challenge accepted and mastered, she observes, the next one becomes less of a threat.
- Tanya Storr, Discovery Islander